Q&A With John Gapper
By Covering Business March 15, 2012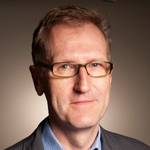 John Gapper is an associate editor, columnist and blogger for The Financial Times in New York.

You began your career in London nearly 30 years ago. What drew you to business journalism back then?
In my twenties, I worked as a general reporter for the Daily Mail and The Telegraph in the U.K., covering crime and general news. When I was 27, an opportunity came up at The FT in London. I started out as a labor relations and employment reporter.
I joined The FT not because I was specifically interested in business journalism, but because it was a good paper. I had always thought I was more interested in politics.
An opening for a banking reporter came up at The FT, and I decided to try it out.

How do you choose the topic you write on in your column? How do you judge the most important business story of the week?
I write about any business, financial or technology topic that I or my editor think caters to the interests of FT readers. I try to choose broader topics that are of interest to the general audience.

We understand that you used to cover banks. How do you think the financial services industry has changed since the days you covered it? What challenges do those changes present to business journalists?
When I used to write about the banking sector in London, the culture of high-street retail banks was rampant. Today, the boundaries between commercial, retail and investment banking have considerably blurred.
The banking sector has grown in size globally and become much more complex. It is harder to know what's going on today. Banking has also become more private.

Your book "All that Glitters" has turned out to be a kind of prelude for other bank failures triggered by risky bets. Is it time to write another book?
My e-book, "How to be a Rogue Trader," just came out last week.

How do you balance the needs of the general audience with your analysis of complex business and financial issues?
I try to make my writing illuminating to a varied, engaged and global audience. I don't think I have to write down to audiences, but I do think I have to appeal to a wide and varied range of people.

Should every business news story give both sides of an argument equal weight?
I personally think it is important for news stories to be quite balanced. I don't believe in an attempt to balance everything discretely, especially when the facts indicate otherwise.

What is the best way for a new journalist covering the banking industry to go about developing sources?
Well, you do get to know people in the sector you're covering. You develop a rapport with them – you know, over drinks and such. And you try to get good stories that people will read. There's no substitute for producing good stories. If you produce good stories, many more people will talk to you, and you will become more powerful.

As told to Nish Amarnath on Dec. 9, 2011
This interview has been condensed and edited.