LinkedIn For Business Reporters
By Jackie Faye August 11, 2015
For business journalists, LinkedIn is so much more than just a professional social media network. It is also a great resource for the reporter tool kit. The site's more than 347 million members circulate enormous amounts of timely information on a daily basis that can help with the reporting process or even generate story ideas.
Here are a few ways to use the site to help your reporting and keep your career on track.
Advanced People Search
One way you can use advanced people search is to get a snapshot of migration patterns from one firm to another. For instance, to see how many individuals from company A are being hired by company B, select company A under "past company," and company B under "current company." Then you have to check individual move dates to see when the moves happened.
Some enterprising reporters have already used this to great effect. For a larger story about a new streetwear clothing boutique called Kit and Ace launched by the wife of Lululemon's founder and their son, Reuters reporters Solarina Ho and Julie Gordon dug into LinkedIn data to find that the company had hired at least two dozen employees from the giant yoga clothes company.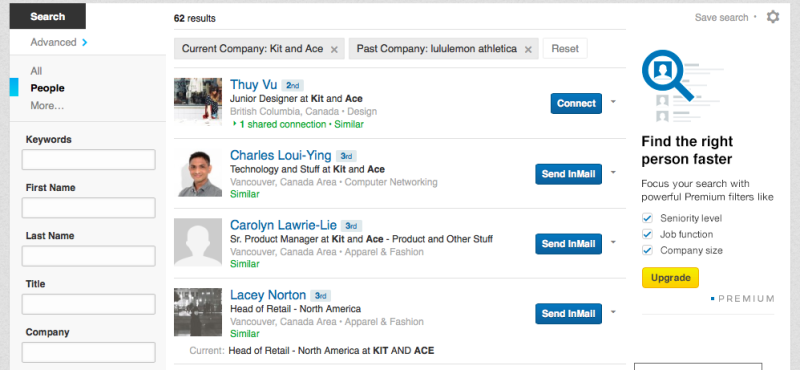 A quick look indicates the hiring spree has continued since their story was published last October. As of early August, the search turns up 62 people who previously worked at Lululemon and now toil for Kit and Ace.
Similarly, reporters for Bloomberg Businessweek wrote an entire story about how Tesla Motors has more employees who formerly worked at Apple than anywhere else, which was published in February. Though it would be impossible to make this calculation with LinkedIn alone, they cited LinkedIn as the source of details about some of the former Apple employees.
Advanced Job Search
Under the advanced job search, a reporter can also see what particular positions a company is trying to fill, which can often indicate what kinds of strategic moves the company may be planning to make. For example, in July 2013, USA Today published a story about Twitter's IPO plans based on evidence reporter Scott Martin found on LinkedIn. The company posted an opening for a financial reporting manager with a job description that referred explicitly to the company's plans to go public.
"Twitter's IPO prospect, one of the industry's most widely watched, appears closer to reality," Martin wrote. "The micro-blogging service has posted a job opening for a financial reporting manager. The person would be responsible for filing the company's preliminary prospectus, or S-1 document, outlining its IPO plans."
I took a look to see what companies were hiring a financial reporting manager in June and IAC/InterActive was the first on the list. (It's now further down in the listings.) The job posting was made on June 22. On June 25, media outlets from CNBC to the Wall Street Journal were reporting that the company was planning an IPO for its dating services, including Match.com and Tinder. It's possible they would have been able to run a story days earlier if they had searched for the job posting on LinkedIn.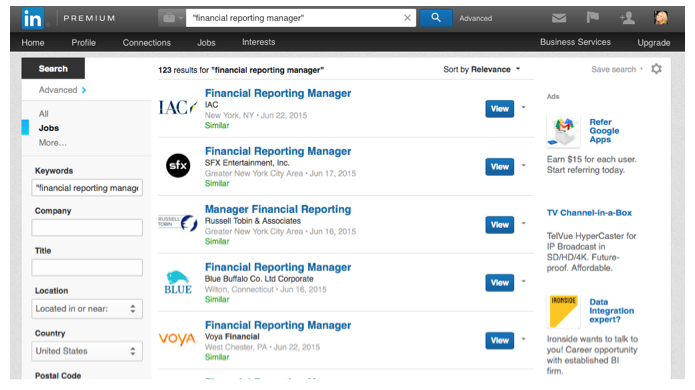 Finding Experts

A firm's hiring and firing practices only scratch the surface of what you can find through a LinkedIn's advanced search. Let's say you are writing about New York City sewage, and you need some independent experts who know about sewage and work specifically in construction – finding this person using LinkedIn is easy.
Under the advance search, you can combine keywords using a capital AND. Using this example, you could type "construction AND sewage" in the slot for "keyword." You can also narrow down the search by entering in the zipcode where you would like to do the interview. You can also search for sources by company, by group affiliation, and other characteristics.

Contacting Sources
If you want to actually get in touch with some of these experts or other sources you locate, try sending messages or InMail. If your target source is not a connection, you can only send a message with a premium account, but journalists get a premium upgrade for free. You just have to take the LinkedIn For Journalists training. It only takes an hour. Follow the group "LinkedIn For Journalists" to see when the next online training will be. Once you complete the training your account will get upgraded. (And did I mention it's FREE?)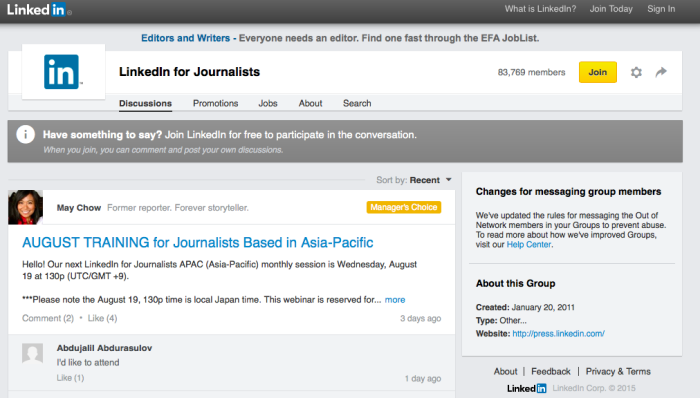 Also, don't forget you can always pick up the phone. Check to see if they have one listed under their LinkedIn contact information, or, once you have a name and position, you may be able to find contact information on the employer's website.
Picking Up the Buzz

LinkedIn is also great place to find out what employees and others are saying about a company. The site allows you to "follow" different firms to keep up with what they post and what others post about them. You can also search all "posts" for a particular key word, such as a company name, which taps you into everything published about the company by the site's members.
One handy tip: You can also save your searches. After you have conducted a search, there is a button on the upper right hand corner of the page that allows you to save it and get weekly alerts by email. If you are tracking hiring or other trends in a particular industry, or just want to hear when a company you are tracking is hiring for an interesting position, you can get a notification right in your inbox.
Group Advantage
There are more than two million groups on LinkedIn, take advantage of them. If you are a technology reporter, follow every big tech company and join groups that are relevant to your beat. Posts by the group's members may tip you off to a potential story. Pay attention to relevant groups and companies when a new product is launched. You may notice users have similar complaints – perhaps you will hear about a malfunction that needs to be reported.
You can also use groups to find expert sources. For example, the Harvard Business Review group has more than one million members. You can search the groups' discussions to see if there may be anything interesting.
Publish Posts
Take a look at what Louise Story did after her series about Hidden Money in NYC Real Estate was published in the New York Times.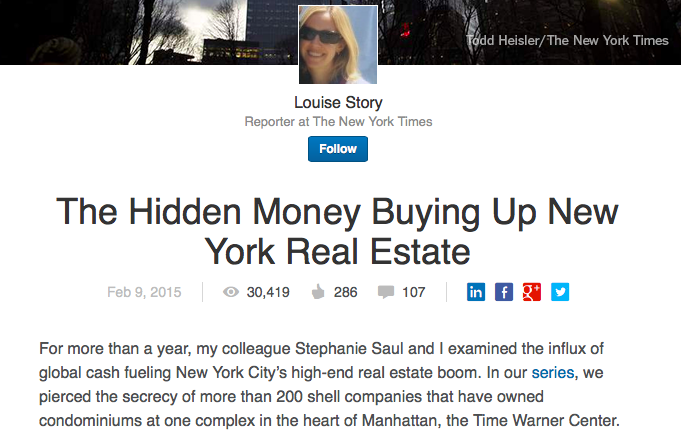 It can't hurt to offer updates on LinkedIn about the stories you have already published. This functions much like a status update on Facebook. You never know who may see your update and have information that could add to your story for follow up later.
One of the easiest ways to do this is directly from your organization's website. Most news websites give you the option to share on LinkedIn. Or you can share directly within LinkedIn from your personal page. You can also connect your LinkedIn account with your twitter account so that both social websites are updated simultaneously. LinkedIn has also adopted a feature from Facebook: you can tag your LinkedIn connections if you want them to see the post. If your story has team coverage, tag your colleagues.
Your company's LinkedIn page may also have more followers than you do –if you are an administrator of the LinkedIn page, you can share your updates on that page as well.

If you want to expand your LinkedIn presence further, the site has a feature that allows you to publish a longer post. You can make this similar to a blog or think of it as a way to expand a story. You can give a first person perspective, or if you had a detail that ended up on the editing room floor, throw it into a post on LinkedIn. Once you publish a post, LinkedIn will also give people the option to follow you rather than just connect with you.
Next time you log on to LinkedIn, be sure to take advantage of all of the resources it offers for reporters. Check out what stories are hidden in its archives or give your own stories a little boost by posting something there yourself.
This entry was posted on Tuesday, August 11th, 2015 at 12:45 pm. It is filed under Featured, Tools & Resources and tagged with LinkedIn for journalists. You can follow any responses to this entry through the RSS 2.0 feed.