Trump for Sale, Living with Parents, Alibaba's Notorious
By Peter Ward December 23, 2016
Trump for Sale
Should the President's ear be something you can purchase? A Texas-based non-profit run by Donald Trump's sons is offering access to the President-elect during inauguration weekend – in exchange for million dollar donations to unnamed charities.
The Center for Public Integrity broke the news this week, after reporters obtained documents and interviews.  The organizations that will benefit from the donations are unnamed "conservation" charities, according to documents.
Sixteen donors will be invited to an "Opening Day 2017" event, set to be held the day after Trump's inauguration, and will receive a private reception and photo opportunity with the new President.  
The donors who pay for an audience with the President will be able to remain anonymous. Nonprofits like the Opening Day Foundation aren't required by law to reveal their donors, unlike political committees. Texas incorporation records shows that the Opening Day Foundation was created less than a week ago.
The registration document for the foundation listed Donald Trump Jr. and Eric Trump among its founders. Since the story was reported however, the Trump transition team has claimed that was a mistake.
"A Trump transition official told the Center for Public Integrity that the registration document for the Opening Day Foundation, the nonprofit behind the Opening Day 2017 event, "will be amended" and that the names of Donald Trump Jr. and Eric Trump will be removed," an update read.
Young Americans Struggle to Leave Home
Almost 40% of young Americans were living with their parents, siblings, or other relatives in 2015, according to The Wall Street Journal.
The data comes from real estate tracker Trulia and shows the number of young Americans living with family is at its highest since 1940. Before the start of the last recession roughly one in three Americans between the ages of 18 and 34 were living with family, but that number has been rising since 2005.
Analysts say rising rents in cities and tough mortgage lending standards are to blame.
"I don't think those are challenges that are going to keep young households permanently out of the housing market, but it may keep their homeownership rate near historic lows for likely the indefinite future," Ralph McLaughlin, Trulia's chief economist, told The Wall Street Journal.
The result of this trend is there is far less demand for housing from the millennial generation. The number of adults aged under 30 has increased by 5 percent over the last decade, but the number of households for the same age group has grown by just 200,000 over the same period.
Alibaba, Notorious
Alibaba, China's largest online retailer, has been placed back on the U.S.'s "notorious markets" list, due to concerns over counterfeit goods sales.
The company was taken off the list four years ago but authorities in the U.S. now say that Alibaba's online platform Taobao is used to sell fake goods.
The company has denied the allegations, and suggested that the "current political climate" in the U.S. might have motivated its placement on the list.
"The decision ignores the real work Alibaba has done to protect IP rights holders and assist law enforcement to bring counterfeits to justice," Alibaba president Michael Evans said. Alibaba says it has removed 380 million product listings and closed 180,000 online stores during the year ending in August.
In May, Alibaba's membership in the International Anti Counterfeiting Coalition watchdog was suspended due to piracy concerns. Over 250 members of the coalition had threatened to leave in protest of Alibaba's membership.
Fortune reported this week that from inside China it is possible to search Taobao and find hundreds, and often thousands, of counterfeit goods that mimic top brands.
Palantir Could Benefit from Extreme Vetting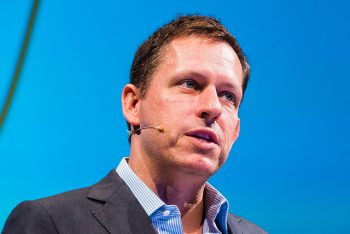 Palantir, a data-mining company co-founded by Trump supporter and transition adviser Peter Thiel, stands to gain the most from the President-elect's controversial immigration plans to monitor and vet non-Americans, according to an article published by The Verge this week.
Palantir has provided mostly secret assistance to the U.S. Customs and Border Protection Agency in tracking and assessing immigrants and other travelers, public records show. The government system Palantir is paid to help operate is known as the Analytical Framework for Intelligence (AFI) and draws from various law enforcement databases to gather and analyze details about people
"When Trump uses the term 'extreme vetting', AFI is the black-box system of profiling algorithms that he's talking about," Edward Hasbrouck of the Identity Project, a civil liberties initiative that focuses on the rights of travelers, tells The Verge. "This is what extreme vetting means."
The system can gather data including biographical information, who a person associates with, travel itineraries, addresses, fingerprints, scars, tattoos and other physical traits.
Dozens of heavily redacted references to Palantir appear in AFI documents obtained through a lawsuit by the Electronic Privacy Information Center.
This Week's Top Headlines
Orders for U.S. Business Equipment Increase More Than Forecast – Patricia Laya, Bloomberg News
Oprah Winfrey Drops 40 Pounds And Adds $100 Million To Weight Watchers Stock – Steve Schaefer, Forbes
U.S. Third Quarter GDP Revised Up to 3.5% Gain – Eric Morath and Jeffrey Sparshott – The Wall Street Journal
Jared Kushner may look to sell New York Observer – Mike Snider, USA Today
Trump is reportedly considering a 5% tariff on all imports – Bob Bryan, Business Insider
Can Trump Reverse Obama's Arctic, Atlantic Drilling Ban? Probably Not – Avaneesh Pandy, International Business Times
State rescue looms for Monte dei Paschi –  BBC
Trump adds billionaire Carl Icahn to team as special adviser on regulation – Dominic Rushe, The Guardian
Uber halts California self-driving cars test – BBC
Secret Unit Helped Brazilian Company Bribe Government Officials – Alexandra Stevenson and Vinod Sreeharsha
This entry was posted on Friday, December 23rd, 2016 at 10:35 pm. It is filed under Week in Review. You can follow any responses to this entry through the RSS 2.0 feed.