Tillerson's Footprint, Trump Jr. Wants More Gun Silencers, Trump Conflicts Dodge
By Peter Ward January 13, 2017
Tillerson's Global Footprint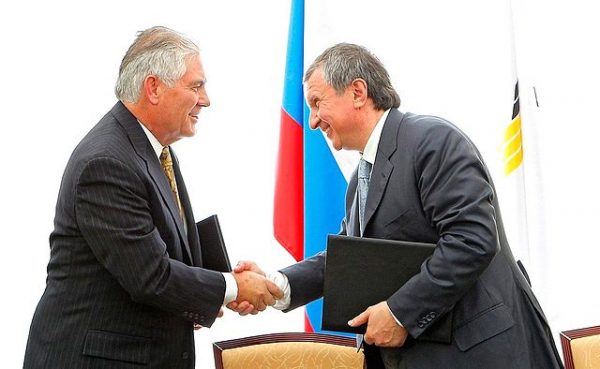 Rex Tillerson, the former chief executive of ExxonMobil and Donald Trump's nomination for Secretary of State, is one of the President-elect's many controversial White House staff picks due to his past life in the energy sector. Jeremy Ashkenas' interactive article for the New York Times this week maps the deals he previously made for Exxon in politically unstable countries.
While in charge of ExxonMobil, the world's largest oil and gas company not owned by a state, Tillerson cut numerous deals with authoritarian leaders all over the world.
In 2011, for example, Tillerson engineered a multi-billion-dollar deal with Russian state-owned oil company Rosneft. The deal cemented an alliance between Igor Sechin, the executive chairman of Rosneft and close ally of Vladimir Putin, and Tillerson, according to Ashkenas.
ExxonMobil has also been active in Angola, Iraq, Venezuela and Yemen, among others, and Tillerson has had dealings with the governments and leaders of all of them.
"Mr. Tillerson was credited with playing hardball with the negotiating team of President Ali Abdullah Saleh, refusing to change the terms of the deal when the government wanted to alter it on the night before he was to return to Texas," Ashkenas writes of Yemen. "Mr. Tillerson stormed out of the negotiations at one point, throwing a five-inch-thick book across the room."
Trump Jr. To Help Gun Silencer Industry
The U.S. gun industry may be about to receive a boost – thanks in part to the son of the president-elect. Gun advocates hope that this year legislation will be passed to end limits on the sale of firearm silencers.
A key backer of the campaign to make silencers legal is Donald Trump Jr., the youngest son of the president-elect, writes Michael S. Rosenwald in The Washington Post.  Trump Jr. is apparently an avid hunter and has campaigned on behalf of the gun industry.
The legislation stalled in Congress last year, but with Republicans in charge of the House and the Senate and Trump set to become President, gun advocates believe they will be able to push the bill through this year.
The bill has not been positioned as a Second Amendment issue, but instead as a public-health issue, aimed at saving the hearing of gun owners. The bill is named the Hearing Protection Act and seeks to remove silencers from the permitting category they share with machine guns and grenades, eliminating a $200 tax and a nine-month approval process.
Violence prevention advocates argue that the bill will make it easier for criminals and mass shooters to obtain devices to conceal attacks.
Call Centers May Already Know You
A call to customer service may be directed according to your social media activities, an article written by Ryan Knutson in the Wall Street Journal stated this week.
Companies such as casino operator Caesars Entertainment and Sprint are checking social media and other personal data in order to tailor customer care calls to an individual. The practice has raised concerns among privacy advocates.
A company called Afiniti Holdings is providing artificial intelligence software that determines which is the best agent to answer an individual caller. The company claims that this can result in more satisfied customers.
"There's a process of discrimination going on," said Joseph Turow, a University of Pennsylvania professor who studies digital marketing. "Companies are bringing data together that we have no knowledge about, and it may discriminate against in a prejudicial sense or a positive sense, depending on who we are."
Despite these concerns, Afiniti plans to take its technology to retail, and is working on facial recognition software to identify customers as they walk into a story and can send the best agent over to them. The company has said that the technology will be an example of artificial intelligence helping people do their jobs rather than eliminating jobs.
Trump's Conflicts
Donald Trump presented a mountain of paperwork to the press on Wednesday, in an attempt to convince the world that his businesses will present no conflicts of interest when he steps into his new role as president of the United States.
"These papers are just some of the documents that I've signed turning over complete and total control to my sons," Trump said in a press conference this week.
But critics have already declared the documents will do nothing to ease fears of conflicts of interest. "President-elect Trump today has set a very dangerous path for himself and for the country," Fred Wertheimer, president of the government watchdog group Democracy 21, said in a statement.
"President-elect Trump is setting the stage to abuse his office for his own personal financial interests in a way that has never been done before. With President Trump in a position to personally benefit financially from his world-wide business enterprises, the American people will not be able to tell whose interests are represented by the president's policy decisions: Trump's financial interests, his benefactors' interests, or the interests of the American people."
Usually when Presidents take office, they either sell off their business assets or put them in a blind trust. Trump and his lawyers have argued that he cannot create a blind trust as "it would be impossible to find an institutional trustee that would be competent to run the Trump Organization," effectively claiming that Trump's sons are the only two people who are capable of running his company. He also claims that he can't sell his businesses because he would either have to strip away the Trump name, which his lawyers say is critical to the value of his assets, or leave the name, entitling him to royalties for the use of the Trump brand, creating new conflicts of interest. As Trump has given control of his assets to his sons, he will have constant contact with the people running it.
This Week's Top Headlines
EPA: Fiat Chrysler used software to cheat on emissions tests – Steven Overly, Brady Dennis, The Washington Post
Trump Tells Congress to Repeal and Replace Health Care Law 'Very Quickly' – Maggie Haberman, Robert Pear, The New York Times
Amazon to Create 100,000 New Jobs in U.S. in Next 18 Months – Spencer Soper, Jing Cao, Bloomberg News
AT&T chief executive, Trump meet amid planned Time Warner merger – Laila Kearney, David Shepardson, Diane Bartz and Anjali Athavaley, Reuters
Exxon ordered to turn over 40 years of climate change research – Matt Egan, CNN Money
CVS takes on Mylan's EpiPen with much cheaper version of an alternative – Ciara Linnane, MarketWatch
Six Volkswagen executives charged with fraud over emissions cheating – Kevin Rawlinson, The Guardian
Fiat accused over emissions software –  BBC
Dow, S&P set for worst day in three months as Trump-trade fizzles – Yashaswini Swamynathan, Reuters
Germany's economy accelerates in 2016 – BBC
This entry was posted on Friday, January 13th, 2017 at 6:31 pm. It is filed under Week in Review. You can follow any responses to this entry through the RSS 2.0 feed.