By Kim Gittleson June 6, 2016
In his March 2016 story "The Billionaire's Loophole," published jointly by The New Yorker and ProPublica, journalist Alec MacGillis investigates the connection between tax breaks for carried interest—the controversial "loophole" of the title—and the philanthropy of the very rich. Knight Bagehot fellow Kim Gittleson spoke with MacGillis about his reporting and writing process in a Q&A and with annotations to the piece itself.
---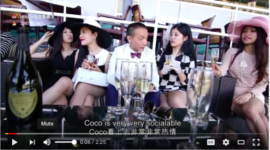 By Kim Gittleson May 19, 2016
New Yorker staff writer Jiayang Fan talks with Covering Business about her popular story "The Golden Generation," in an interview with Kim Gittleson, a 2016 Knight Bagehot fellow. An annotated version of the story itself follows.
---